An Iconic figure Mr. Robert Ripley [born in Santa Rosa, California], known for creating 'Ripley's Believe It or Not!' which carries odd unusual facts around the world, made its appearance in Newspaper panel series, Radio shows and Television programs.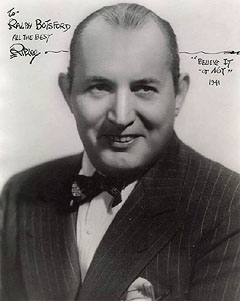 He is renowned as an American Cartoonist, Explorer, Traveller, Adventurer, Reporter, Anthropologist, Polyglot, Collector and Entrepreneur.
1) First Millionaire Cartoonist who never missed a day in his active 20 years. Early years, he worked as sports cartoonist for Bulletin, Chronicle and the Globe.
2) He would like to start his potential career as a baseball player ended because of an arm injury he sustained while trying out for the major leagues, and so he turned to his other main talent, drawing cartoons.
3) Ripley's first commercial cartoon sale was to Life magazine in 1908. The drawing featured a young woman pushing laundry through a wringer with the caption "The Village Bell Was Slowly Ringing." He was paid $8 for the cartoon and the pun.
4) Robert Ripley received an average of 3,000 letters a day for over 20 years. That's over a million letters a year!
5) He travelled 201 countries in 35 years and learned 14 languages. He made his first trip around the world in 1922.
6) Ripley was nicknamed "Modern Marco Polo." The nickname was created by William Randolph Hearst's publicists.
7) Ripley's first book "Believe It or Not!", (1929) published by Simon & Schusterwere collections of his newspaper cartoon drawings, appeared at a time when he was receiving millions of pieces of mail each year.
8) On Nov. 3, 1929, Ripley's cartoon revealed that "America has no national anthem." Indeed, the U.S. Congress had never formally adopted the song as the national anthem. Public outcry followed, and President Herbert Hoover signed legislation making it the national anthem March 3, 1931.
9) Through his cartoons, he often found to make some controversial statements like: "George Washington was not the first president of the United States." (A man named John Hanson, who signed the Articles of Confederation that preceded the Constitution, was briefly elected "president of the United States in Congress assembled.") 
10) Ripley was also a movie star, making 24 "shorts" (12-15 minute documentaries) for the Vitaphone Film Company in 1931–32.
11) Ripley was the FIRST to broadcast: from underground; from the sky (from a falling parachute); from underwater; from mid-ocean to the entire USA; from Australia to the USA; from South America to the USA and from London, England to every country in the world simultaneously using a team of translators!
12) He has been voted First Most Popular Man in America in 1936. President Franklin D. Roosevelt came in second.
13)  Ripley's cartoon series was estimated to have 80 million readers worldwide, and it was said that he received more mail than the President of the United States. 
14) He bought a small island north of New York City, which he named BION and where he constructed a 28-room mansion. The estate became something of a museum, where he housed much of his collection of artifacts, and also a social hub where he hosted lavish parties and dinners.
15) Ripley's television show was the first "reality" show and was growing quickly in popularity until on show #13 on May 23, 1949; Ripley had a heart attack while on stage discussing the military funeral hymn "Taps".
In his Memory on December 1950 Mr. James Arthur opened the first permanent Ripley's Believe It or Not! 'Odditorium' in St. Augustine, FL.
The new millennium saw the release of the acclaimed biography by Neal Thompson.
A Curious Man: The Strange and Brilliant Life of Robert (2013)